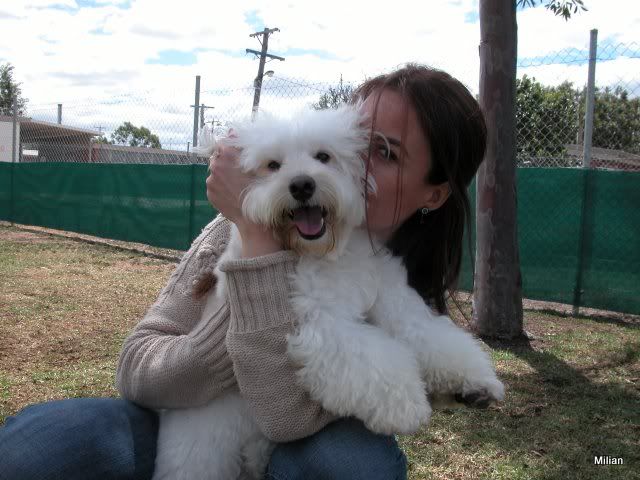 For the 7 months you looked after Nila while we located from Manila to Melbourne you guys took fantastic care care of Nila and I have to admit, we have not been able to maintain her coat to the same condition as you had it when Nila arrived. I guess that's a trade secret...
For anyone looking at using Puppy Cottage's services, I can with complete confidence tell you that during the 7 months that our poodle x cocker spaniel was boarded at Puppy Cottage she was provided the best care possible. This was a great comfort for us during a time (relocating) that things can be very stressful. Puppy Cottage gave us peace of mind that our little princess (Nila) was being taken good care of and most importantly, being loved by the team at Puppy Cottage.
Prior to meeting Puppy Cottage, we were concerned about how Nila would manage without us, considering she had never left our side for more than a couple of hours before. We looked at a few boarding facilities but most seemed very clinical. A good friend of ours had previously given us some very sound advice and that was the importance of dogs who are being boarded for long periods, to experience regular human interaction, rather than been left alone in a cage. My wife found Puppy Cottage and was impressed with the fact that all the people working there also had dogs and seemed to be very passionate about caring for them.
After 3 months, my wife and I traveled to KL to visit Nila and this was the first time I was visiting the facility. I was impressed with the way that Puppy Cottage encouraged iteration with the dogs even allowing them to roam into the shopfront. All the dogs were excited to see us and especially our Nila.
As we had not seen Nila for a while, we took her to a local park, she seemed very relaxed and was in great shape. When I took her back to Puppy Cottage that night I was very impressed to see that Nila couldn't wait to get back inside and was very happy to see Puppy Cottage team member after not seeing them for most of the day. This gave me great comfort seeing that Nila actually liked staying at Puppy Cottage and wanted to be there.
During the period that Nila stayed with Puppy Cottage, they also looked after her quarantine requirements with the assistance of Dr Karu. This included vaccinations and regular blood tests.
Puppy COttage's team did a great job in managing Nila's transport requireents back to Melbourne, they ensured she was comfortable in her cage, provided her favorite toys, blankets and even rigged up a water bottle to ensure Nila had edequate water for the entire flight. They also trained Nila to drink from the water bottle weeks before the flight which indicates how thoughtful they are.
If you need any other information, please feel free to contact me through Ryan.
P.S. the only problem we have now is that we can't find a service as good as Puppy Cottage in Melbourne for Nila's grooming....
--
Max Tennant & Elena
Disclaimer: Letter and Picture posted are properties of Nila's owner. You may not alter, transform, or build upon this work before obtaining their permission.